Mae, 1969, exactly as she looked when I met her.
Cousin Mae burst into my life in 1970. She came to visit my folks, as part of her tour of long-lost cousins, to fill in and update the family history she was writing. She'd promised her father, who had started this project, that she'd finish it for him after he died in 1954.

She was a rotund, red-dressed, black-wigged whirlwind, insisting that we try to, "Guess who I am! Can you guess who I am?"

Dad sat in his overstuffed easy chair in the corner of the living room, crossed his arms, and said, "I don't play games."

"Oh!" she said, "you're just like your father, exactly like your father! I saw him when he was a baby in his pram, at your grandfather's Edmonton dairy farm. Now, aren't you just dying to know who I am?"

"No," Dad said. She badgered him a bit more, until he said, "Either say who you are, or go away."

She was even more thrilled that he was so like his dad, whom she'd last seen in 1961 (he died in '66). She introduced and explained herself, and we had a very nice dinner and evening with her, then she continued on her way.

Grandma stayed in touch with Mae, but I didn't see her again until the 1980s, when I visited her occasionally in Seattle and corresponded irregularly. I appreciated her company, letters, and encouragement immensely. She was a most singular, eccentric, sharp-as-a-tack treasure.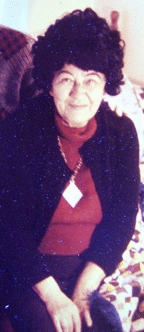 Mae, circa 1985
She never lost the confidence of a beautiful girl and woman. When my husband first met her, in the 1980s, she was a skinny, toothless, bewigged old character, hard to imagine how lovely she'd been for much of her life.
lifemask, 1936
Mae is tangential to my intent with this website, but to honour the great mess (truly a hodgepodge) of Guild and other material I've inherited from her, I've gathered a chronology of photos to show her from age five through to her death at age 93.