Summer 1949 (Mom & Dad in Toronto)
Two empty houses, lots of time and beds ...
Grandma & Grandad spent from June - Sept every year running their Cavell Chalet tourist business, 18 miles from town, leaving their house in town empty. Mom's parents went to Ontario that summer to settle some inheritance business that had been pending since the war.
... & of course on July 6 the rhythm method tricked us. We lost track of the days. The 20th arrived and I knew I was pregnant. What to do? Dr. Straughn gave me some pills to take, but of course didn't work.
We drove to Hinton & got a marriage licence & blood test & were going to return the next week to get married. I don't know why we were given the licence when we were underage. I said I wanted to tell Mom & Dad who were still away, hoping I could have a nice wedding as they were going to be home in about a month.
Mom came home, but said no wedding Dad was away til spring. It was a great disappointment, she didn't understand - we loved each other, and we wanted our baby.
I stayed in Jasper til mid Jan 1950, even had Christmas dinner at Gordon's folks. They had to have known I was pregnant, but just hoped I'd go away.
Gordon went to Edmonton to work for Wilf Pollard doing lath & plaster. He stayed at McKinlay's.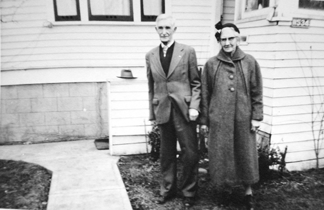 Gordon's maternal grandparents, Murdoch and Leaffie McKinlay, at their house in Edmonton, ca. 1960. They'd retired to the city after homesteading and farming together for more than 50 years. On the farm, Grandma McKinlay had often taken young pregnant women will nowhere else to go. She welcomed Gordon and Marion, whatever their circumstance, whenever they needed a place to stay or good food to eat.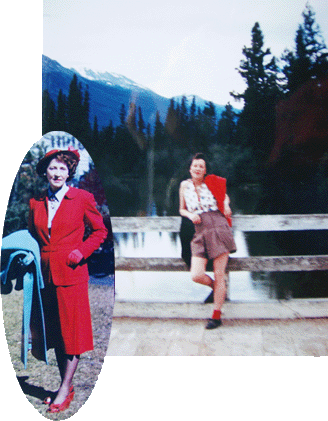 Marion's mother, in Stanley Park, 1939, foreground; Miette River, Jasper, 1940s. Ever a lady, a great spirit, lively sport, as well as a force to be reckoned with. Mom loved her "like sunshine", she said.
I went to Edm. also & Mom and I stayed with people Dad had stayed with when he attended Anglican Synod. Mom never told them I saw pregnant, so it was embarrassing being there. Gordon & I saw each other sometimes & went to a movie sometimes.
I begged him to find a suite for us so we could be on our own, but I guess he was too young and afraid to take that step. Meanwhile I got bigger & bigger, and more concerned. Finally Mom suggested we go by bus to Cloverdale and stay with Staggs. It was now six weeks before Don was born & in bad winter conditions. It took us four miserable days to make the trip, having to go through Seattle to avoid read closures. No bathrooms on the buses those days, so I was often in agony.
Once again Mom never mentioned I was pregnant & Ollie Stagg didn't really want us there as she was pregnant also.
When I said good-bye to Gordon, I took the bus alone to McKinlay's. They weren't home, so Gordon & I had some time alone. We argued because he didn't want me to go, but what choice did I have? All he had was 50¢, which he gave to me. I felt so sad and desperate.
We had no contact while I was in Cloverdale as I didn't even have a nickel for a stamp.